Barclays Pingit
Barclays Pingit is the UK's first instant mobile payments app for smartphones that lets you make quick, simple and secure donations. You don't need to be a Barclays customer to use Barclays Pingit – you just need a UK mobile number and a UK bank account.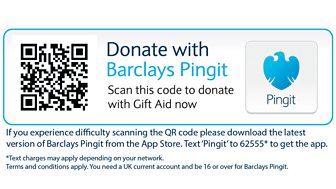 How do I get it?
To find out how to get started with Barclays Pingit, visit:
Or text 'Pingit' to 62555 to receive a link to download it from your app store*.
Existing Barclays Pingit users, scan the QR code
Step 1 – Enter your 5-digit passcode to login
Step 2 – Choose "QR code payment"
This will automatically load the BBC Children in Need details into your Barclays Pingit app.
Alternatively:
Step 1 – Enter your 5-digit passcode to login
Step 2 – Select 'Charity Payment'
Step 3 – Search for "BBC Children in Need"
Step 4 – Enter a reference and amount
Step 5 – 'Send Donation'
Step 6 – Follow the steps to add Gift Aid
Step 7 – Confirm donation
Terms and conditions apply. You need a UK current account, a UK phone number and be 16 years of age or older to be eligible for Barclays Pingit.
*Charges do not apply to text 62555.