DJ Kayper
Kaajal Bakrania began DJing at the tender age of 12.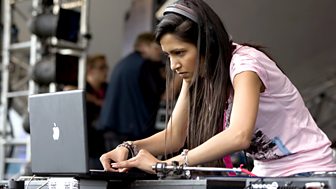 Given the nickname Kayper in high school because of her mischievous reputation, she channelled her naughty behaviour onto the turntables and mastered the art of turntablism and scratch before becoming a teenager. By the age of 15 she was already a regular DJ in London's top clubs and bars and sought after by club promoters across the UK.
Heavily influenced by the legendary DJ Jazzy Jeff, Kayper mixed up classic and current Hip-Hop with Bhangra and Bollywood. Adding R&B, Reggae, Rock and Soul to the mix she garnered a reputation for one of the most versatile DJs in the urban music arena.
Kayper went on to rock crowds globally before becoming the first female ever to win the Vestax Juice DJ competition in 2003, showing the world that females have a righful place behind the decks. Her skills even caught the attention of Jazzy Jeff himself who praised, "DJ Kayper is the best female DJ that I've ever heard in my life!". She was nominated in the Best Club DJ Category at the 2010 British Asian Music Awards.
In 2006 Kayper joined BBC Asian Network on The Hype Show, before presenting her now self-titled show every Friday.