Euan McIlwraith
Euan McIlwraith presents BBC Radio Scotland's Saturday morning outdoors show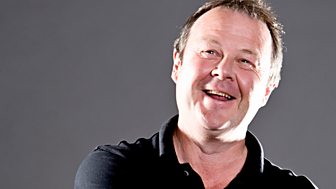 Euan has travelled the world for the BBC reporting from over forty countries, ranging from war zones in Rwanda and Israel, to wildlife crime in China and Pakistan.
In addition to world wide assignments he has reported from almost every corner of Scotland.
He has worked for the Natural History Unit in Bristol as well as working as an investigative reporter for BBC Scotland, Radio Four, Five Live and the World Service.
Personal highs included reporting live from the top of Kilimanjaro and completing the West Highland way.
He now works for Landward on BBC TV and Out of Doors on Radio Scotland as well as TV sport.
He describes his job: "It's like working on Blue Peter for adults!"
Out of Doors - Behind the Scenes
Early morning long before the sun is in the sky the Out of Doors team are hard at work putting the show together. Take look behind the scenes. Filmed in 2008.