King Krule
Archy Marshall's forging a restless, stumbling oeuvre in London.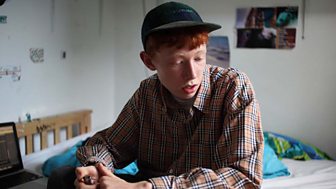 | Fact title | Fact data |
| --- | --- |
| Based in | East Dulwich |
| Age | 18 |
Having previously recorded as Zoo Kid before switching to King Krule, former Brit Schooler Archy Marshall has been at this game rather longer than his tender years suggest - he's still only 18. But it's with his current crop of songs that he's rightly turning heads.
Possessing a palpable world-weariness, Marshall's songs are akin to those one might associate with longer-in-the-tooth troubadours like Morrissey or Edwyn Collins. But what's wrong with sounding like the classics, especially when you channel them so effortlessly?
With his Estuary English vowels, there's also a little Weller about this rising talent, instantly evident on his The Noose of Jah City single. A YouTube comment beneath said track's video also posits: "the new Joe Strummer?"
As 2013 unfolds it's likely to find King Krule carving a niche every inch as impressive as those of his influences.