Samantha Bond
Film, television and stage actress.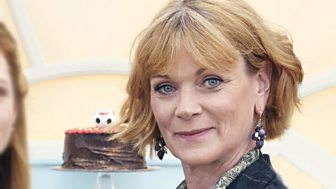 Samantha, 51, is an English actress best known for her roles as Miss Moneypenny in the James Bond films alongside Pierce Brosnan. She has starred in four of the Bond films, including Golden Eye and Die Another Day. 
I am a sensible cook and can make sense out of any recipe

Samantha
Samantha lives with her husband, actor Alexander Hanson and two children, Molly and Tom.
She first made a name for herself in the long-running play Daisy Pulls it Off (1983) and later performed with the Royal Shakespeare Company where she has portrayed most of the primary female characters in the works of Shakespeare.
In 2010, she starred as Mrs. Cheveley in a new production of An Ideal Husband at the Vaudeville Theatre.
Most recently, she has played the role of Lady Rosamund Painswick on the popular ITV drama Downton Abbey.
Baking Experience
Samantha only ever remembers baking a chocolate cake for her daughter's 1st birthday and is now 22 years old. She also has a son but doesn't have any memories of doing any baking for him.
 She has never baked biscuits but is keen to practice before the signature challenge and will try to come up with an original idea for her showstopper.
 While Samantha is a novice at baking, she is a confident cook and has often hosted large dinner parties for up to 14 people where she has done all the cooking herself.
 She was taught baking at school in a compulsory Domestic Science class, which she would attend once a week. However she does not remember anything she learnt as it was a long time ago.
  Her aim is to walk out of this with as little humiliation as possible and she would be thrilled to get positive feedback from the judges.