John Pankow (Merc Lapidus)
To industry outsiders, obnoxious network boss Merc Lapidus may seem too extreme, but John Pankow admits that, for him, he is scarily real. After more than 30 years as an actor he has met plenty of people who are only too like his character.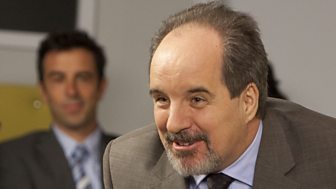 "He's not a stretch, he's an amalgamation of so many of the power brokers in LA," he says.
[Merc's] an amalgamation of so many of the power brokers in LA.

John Pankow
"What Jeffrey and David do so brilliantly is reveal the real underbelly of LA. It's like Sean and Beverly are taking the audience on a tour of Gomorrah. On the surface LA is so beautiful, but the underbelly is so vicious and competitive and dog eat dog."
But he was left scratching his head over how to stop audiences hating fickle, womanising bully Merc. In the end he decided to play it straight and let people make up their own minds.
"When I first read the scripts I thought people are going to be hurling things at their TVs because this guy is so irredeemably offensive. I said to my wife, 'No one can make this guy palatable', but once I was playing him I couldn't judge him. He marches to his own drum, he doesn't edit himself at all and he doesn't sit down and take stock of how his behaviour might be affecting other people in his life."
The second season sees pressure mount on Merc as "Pucks!" struggles in the ratings and he finds himself losing the battle with other networks for viewers.
"It's a trying time because it isn't a forgiving industry. It demands constant ratings success, and his head is on the chopping block. No one is ever safe from the gallows."
The one person always on his side is his poor long-suffering mistress Carol, but Merc doesn't appreciate her or how much he needs her.
"Merc gets all the kudos when things go well and he doesn't appreciate that things would probably fall to pieces if it wasn't for her. She is the strong woman behind the man, but their relationship clouds things even further in his mind."
This series John gets to share the big showpiece fight scene with Matt and he admits he gritted his teeth through the pain barrier because he was enjoying it so much.
"I never told anyone, but we were in a scrap and Matt accidentally kneed me in the cahoonas in the first half hour. I knew everyone would make a fuss and change the fight if I said anything so I was just a bit more careful next time we shot it. We spent about ten hours filming that scene and it was like a Jane Fonda workout. We had a fight co-ordinator and I was sweating so much that I drank seven litres of water. It was crazy, but a lot of fun."
Filming has meant spending three months living in Britain and John has relished the experience.
"There are great restaurants and museums, and I've had a lot of fun. It's added another dimension to shooting in the UK."