Education and Community Outreach
Find out all about Education and Community Outreach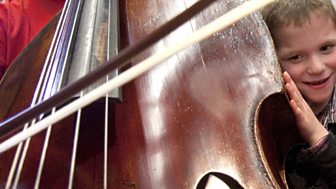 The dynamic Education and Community Outreach Department of the BBC National Orchestra and Chorus of Wales takes music beyond the confines of the concert hall into schools, workplaces and communities.
My pupils were totally captivated

Teacher feedback
The aim of the Education and Community Outreach work is to offer people of all ages, backgrounds and abilities unique opportunities to develop musical skills. The programme is delivered through a series of activities involving groups of musicians as well as the whole Orchestra, with projects designed to offer creative opportunities to meet and work alongside professional musicians.
Between April 2012 and the end of March 2013, the BBC National Orchestra of Wales Education and Community Outreach programme reached more than 13,200 participants across 30 projects. These diverse activities ranged from introductory concerts to masterclass workshops for young talented musicians.
Projects
Music for the Deaf, deafened and hard of hearing
In October 2012 and February 2013, the Orchestra produced a total of six concerts targeting Deaf, deafened and hard of hearing adults and children. The project used British Sign Language interpretation, Speech-to-Text relay and vibrating sound boxes to increase accessibility as far as possible. There were also opportunities for audience members to sit inside the Orchestra and touch the orchestral players' musical instruments to literally feel the music.
Other projects that the Orchestra's Education and Community Outreach department have led include a project taking competitors from BBC Cardiff Singer of the World 2013 to meet pupils from local primary schools, and a performance at the Llangollen International Musical Eisteddfod Children's Day.