Gus Smith
Gus was a sweet guy with a heart of gold. He was the bard of Bridge Street, keeping everyone entertained with his lyrical skills.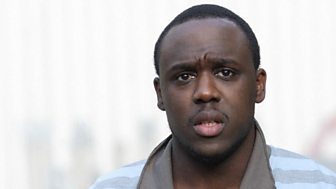 | Fact title | Fact data |
| --- | --- |
| First appearance: | 28th May 2002 |
| Last appearance: | 1st May 2008 |
| Occupation: | Market maintenance officer |
It's a shame Gus's love life wasn't as successful as his poems. The only person who really loved him was Wellard!
Wellard and Gus have been through the mill together. They even survived a life-or-death situation when they rescued Zoe Slater after a Scottish adventure turned to terror when their coach crashed.
His troublesome brother Juley often tried to lead him astray but Gus was always quick to know right from wrong. After a failed romance with Sonia, the gentle poet endured another doomed partnership when he shared a flat with deranged psycho Sean Slater.
You know that your flat-share isn't working out when you suspect your room-mate of using your dog to make the meat filling in your spag bol.
Gus got his revenge on Sean and waved goodbye to the Square to go on tour with new girlfriend Keisha. Whether she's keeping him inspired, we do not know. Keep your eye on the poetry shelves of your local bookshop for 'I'm Just a Sausage, Vol. 1' by Gus Smith.
Played by Mohammed George