Jon Holmes
Hear Jon, Saturday, 10am-1pm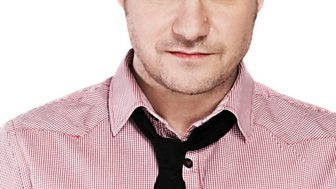 The seven-time Sony Award and double Bafta winning writer, comedian and broadcaster called Jon Holmes haunts your radio like a tiny ghost, writing and performing on across the BBC dial.
On TV, Jon has worked with Armando Iannucci, Stephen Fry, Harry Hill and Graham Norton. Jon also co-created Dead Ringers and co-writes the hugely popular Royal Television Society and Bafta Award winning Horrible Histories for BBC One. Other TV includes Mock The Week, Have I Got News For You, Top Gear and 2010/2011 Unwrapped.
He has been variously described as "clever…but warped" by The Sunday Times, "a genius" by Heat, "wickedly funny" by The Times and "a tosser" by Martine McCutcheon in an interview in Smash Hits. He is most proud of that one.