Wales
Singing Doctors at Maelor General Hospital, Wrexham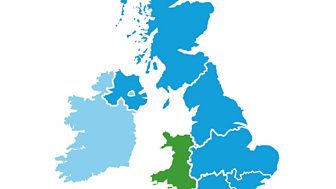 One of the projects, run by the Welsh National Opera, interacts with children when they are at a vulnerable time - in hospital.
At the Maelor General Hospital in Wrexham, the Singing Doctors carefully consult with staff to find out which cubicles or rooms it might be most appropriate for them to approach to bring a smile to a child's face by encouraging them to sing anything at all from arias to their favourite nursery rhymes.
Opera singers Cressida and David - also known as Doctor Divo - donned costumes and make up before trundling their wheelie suitcase of props and CD round the different cubicles, lulling a little baby to sleep and soothing a toddler who had just come round from a general anaesthetic.
Little Emily, three, was on oxygen after suffering a chest infection but was thrilled to be able to teach the Singing Doctors some of her own repertoire!
The weekly singing sessions, led by Ruth Evans, provides a real distraction to patients and parents who might otherwise be intimidated by the thought of medical procedures and the pain or discomfort they're in. If they just make one little girl sit up in bed and smile, it's a good day's work done.
BBC Children in Need gives the Welsh National Opera a grant of just under £10,000 to help fund both these sessions and a family choir that's being established in the Caia Park area of Wrexham.
Meet more children and get involved