D.S. Lisa Merchant
The female detective on Ivy's case.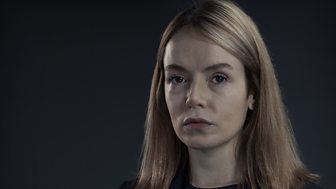 Merchant is the youngest of her family. With high achieving brothers, she felt a lot of pressure to keep up. When she announced she wanted to join the police, it was met with a perplexed reaction from her parents. Merchant turned out to be a brilliant detective – she interrogates everything and never accepts an easy answer. All ambition, Merchant's determined to get to D.I. before she turns thirty. This doesn't leave much time for dating but she doesn't care – partnership with Carne provides entertainment enough.
With Ivy's return, Merchant will find her close relationship with Carne tested to the limit.
Valene Kane
Valene Kane is best known for her role in the hit BBC 2 series The Fall, directed by Allan Cubitt. Taking on the role of 'Rose Stagg', she stars alongside Jamie Dornan and Gillian Anderson. Valene will reprise her role in the highly anticipated third series. Other TV credits include director Birger Larsen's BAFTA winning Murder, series 2.
2014 saw Valene feature in '71, directed by Yann Demange alongside Jack O'Connell, Sean Harris and Sam Reid. Other film credits include Victor Frankenstein, Jump, The Hoarder and Panic.