Frank Butcher
Walford needs its smooth-talking bad boys, and Frank Butcher was one of the best…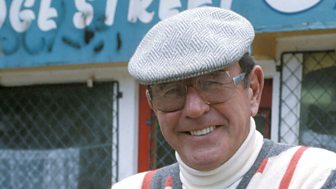 | Fact title | Fact data |
| --- | --- |
| First appearance: | 8th September 1987 |
| Last appearance: | 9th December 2005 (Died March 2008) |
| Occupation: | Businessman |
Diamond geezer Frank Butcher was the iconic leading man of Albert Square, but for all his twinkly-eyed cockney charm some might say that he was little more than a second-rate conmerchant.
What do you think I am? Some kind of pilchard?

Frank Butcher
His smooth-talking nature proved a hit with the ladies, and when the love-rat rolled into town to pick up the pieces with his teenage sweetheart Pat, he managed to break her cast-iron heart.
His hands-off attitude to parenting and frequent absences from Ricky and Janine's lives arguably led Janine on her attention-seeking, destructive path.
Domineering mother Mo tried to put him on the straight and narrow, but failed. And like Pat before her, poor Peggy Mitchell fell under the dodgy car dealer's spell. Frank won her heart, cheated on her and conned her out of a great deal of money, even faking his own death.
But there will only ever be one Frank Butcher. No matter what he did, neither Pat nor Peggy could stay angry at Frank for long (and after seeing the scene where he bewitched Pat in nothing but a dickie bow and a smile, we can see why).
In spring 2008, Frank died for real from cancer. His body was returned to Walford to be cremated. Thankfully, Phil didn't light the fire this time.
Played by Mike Reid