Jan Petrus
Jan Petrus and his family used to live in Wallander's new house. A career criminal, a sometime pimp, he now lives in a junkyard some distance outside of Ystad.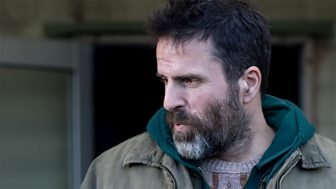 Yeah, you're dreaming. You know you're dreaming.

Petrus
He's a truly bad piece of work - violent, abusive, and always seeming to keep one step ahead of the law. He views time in prison as a hazard of the job, and cares little for anyone - not his long-suffering wife, his daughters - apart from his beloved dogs.
Con O'Neill
Robert 'Con' O'Neill was born in 1966, Weston-super-Mare, England.
He was awarded the Laurence Olivier Theatre Award in 1988 for Best Actor in a Musical and was nominated for Broadway's 1993 Tony Award as Best Actor (musical) (from Wikipedia).