Prime Minister Clement Atlee
In 1948, just three years after the end of World War Two, London is half-destroyed and its people are starving.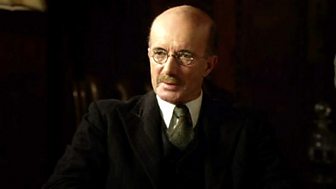 The last thing anyone wants is for the city to put on what most see as an unnecessary and expensive spectacle. Determined not to "let the Games die", Prime Minister Attlee and the British Olympic Committee manage to bring the country back together, even though deep down they know that they're taking a huge risk.
Clive Merrison
Clive trained at Rose Bruford College, and has made numerous television appearances including Reilly: Ace of Spies, Doctor Who, The Tomb of the Cybermen, Paradise Towers, Drop the Dead Donkey, The Kit Curran Radio Show, Yes, Prime Minister, Foyle's War, Time Riders, The Bill, Mortimer's Law, and Midsomer Murders.
He has also made film appearances in Heavenly Creatures, The History Boys and Firefox.