Ireland: Ailish Tynan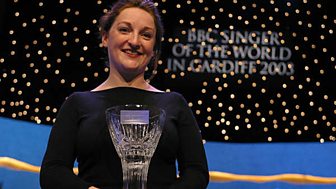 Song Prize winner
Born in Mullingar, Ailish studied at Trinity College Dublin and the Royal Irish Academy of Music before continuing her training at the Guildhall School of Music and Drama in London.
She has won many prizes including the John McCormack Golden Voice of Athlone in 2000.
A member of the Villar Young Artists Programme, Ailish made her Royal Opera House debut as Papagena Die Zauberflöte, followed by Wood Nymph Rusalka.
She has sung Barbarina Le nozze di Figaro with Glyndebourne Touring Opera, and gave a recital in the Rosenblatt Recital Series in January 2003.
Engagements following the competition included more roles at the Royal Opera House and recitals in Dublin, the Isle of Man and London.
Ailish likes visiting the cinema, going to the gym and spending time with friends.
Singer of the World with Orchestra Concert 4 repertoire
Handel: E pur così in un giorno...Piangerò la sorte mia, Giulio Cesare
Mozart: Deh vieni non tardar, Le nozze di Figaro
Puccini: Oh! mio babbino caro, Gianni Schicchi
Johann Strauss II: Spiel ich die Unschuld vom Lamde, Die Fledermaus
Rosenblatt Recital Song Prize Concert 2 repertoire
Arr Britten: At The Mid Hour Of The Night, Folksong Arrangements Vol 4 No 5
Rosenthal: L' Éléphant du Jardin des Plants, Chansons du Monsieur Bleu No 2
Rosenthal: La Souris d'Angleterre, Chansons du Monsieur Bleu No 9
Wolf: Du denkst, mit einem fädchen mich zu fangen, Italienisches Liederbuch No 10
Wolf: O wär dein Haus durchsichtig wie ein Glas, Italienisches Liederbuch No 40
Wolf: Wir haben beide lange Zeit geschwiegen, Italienisches Liederbuch No 19
Wolf: Mein Liebster ist so klein, Italienisches Liederbuch No 15
Richard Strauss: Morgen, Songs Op 27 No 4
Richard Strauss: Ständchen, 6 Songs Op 17 No 2