Ryan Malloy
Whitney's older brother is a cagey character with a dark past, but he always has time for the ladies!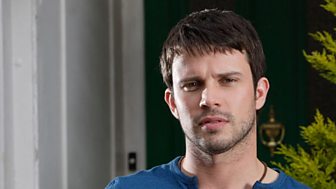 | Fact title | Fact data |
| --- | --- |
| First appearance: | 28th April 2009 |
| Last appearance: | 1st September 2014 |
| Occupation: | Barman |
Whitney's half-brother, Ryan, gave the impression that he was independent, committed, shy and more than a little self-centered. But he was softer than he liked to let on.
I'm a good man.

Ryan Malloy
Abandoned by his mother as a baby and having lived in care and spent a period on the streets, Ryan learned to look after number one. Perhaps then it's no surprise that he found an ally in the shape of flatmate Janine Butcher, who he went on to marry.
Seemingly a perfect match, things soon turned sour between Ryan and Janine after he learnt that baby Lily was his daughter and he ultimately fell for Stacey's charms. Indeed, it became clear from his relationships with both Stacey and his sister that Ryan wasn't the hard-nosed schemer that he pretended to be.
Indeed it was the urge to protect Whitney which forced him out of Walford when he accidentally killed Rob Grayson, a pimp who had duped and exploited Whitney. Ryan left the Square after Whitney unwittingly implicated him in Grayson's death in 2011.
Played by Neil McDermott
Find out more about Ryan's Walford connections and play quizzes and games in our family tree.