Mary Berry
Mary Berry's reliable and trusted recipes are as popular today as they've even been.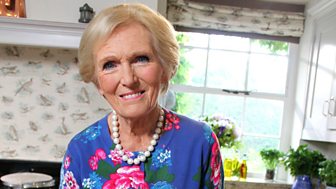 Mary has built her reputation for great family food by truly understanding the needs and wishes of Britain's home cooks. She only uses easy-to-buy ingredients. She keeps her instructions straight-forward. And she instinctively knows what sort food we like to eat at home. In 'Mary Berry Cooks' this philosophy shines through in every recipe she cooks.
Follow any of the recipes featured in the series and they will work every time. Each one has been thoroughly tried and tested. And the same can be said of the countless recipes in more than 70 cookbooks which Mary has published over the years.
With her very modern approach it's easy to forget that Mary Berry's career has spanned a revolution in home cooking. When she started out, so many ingredients we use today weren't even available in the shops, like pasta, olive oil and fresh herbs. Back then few people used electric mixers and blenders and there certainly weren't any microwaves. Our kitchens and our tastes have changed.
But Mary has moved with the times, embracing new flavours and techniques while holding on to the principles she developed when she first began to teach the nation how to cook. Under her guidance we can cook without getting stressed and can always choose recipes we really want to eat. As 'Mary Berry Cooks' proves, her approach is timeless.