Detective Sergeant Nick Mohammed
Meet writer, performer (and now Princess Diana fan and detective), Nick Mohammed...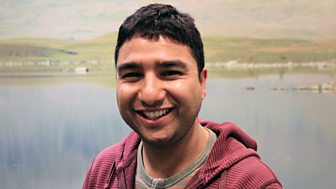 Detective Sergeant Nick Mohammed's file
Likes: solving crimes
Dislikes: The Shard
Previous criminal convictions: stealing bulldog clips off old case files
Weight: 59 stone (substantial underestimate)
Would like to meet; Princess Diana
Has never: Died
Number of arrests: 12 billion
Number of court appearances: CONFIDENTIAL!
About Nick Mohammed
This is Nick's fourth series for Radio 4. Previous shows include: Quarters, In Bits and Apollo 21.
He has just filmed a lead role in new E4 comedy Drfiters - due out this autumn - and has featured in a host of top comedies including Life's Too Short, Miranda, 10 O'Clock Live, The King is Dead and I'm Sorry, I've Got No Head.
Last year Nick wrote his first original film, Magic, for Channel 4′s Coming Up scheme, which was also shown as part of the Edinburgh International Film Festival.
He is currently working on a new live show plus several television scripts including The Making of Mr Swallow and a multi-character vehicle One Small Leap with Adam Riches.