Jim Branning
Jim Branning could be lazy, tight and selfish, but underneath all that he had a heart of gold, as Dot found out.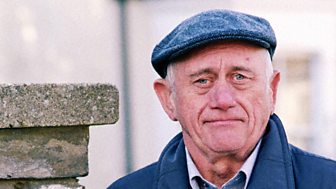 | Fact title | Fact data |
| --- | --- |
| First appearance: | 29th April 1996 |
| Last appearance: | 26th May 2011 (Died 9th April 2015) |
| Occupation: | Pensioner |
Before suffering a stroke in 2007, Jim was a regular bar prop in the Vic and a keen gambler. You wouldn't even trust him with your pint.
I bet you a fiver...

Jim Branning
His fathering skills left a lot to be desired too, as locking your young son in a coffin overnight wouldn't exactly win Father of the Year! Although, falling in love with Dot and marrying her in 2002 softened his heart.
He almost broke Dot's heart in 2007 when he suffered a stroke. She feared that she wasn't strong enough to look after him and wrestled with her feelings of guilt and frustration at her inability to stand by her man in his time of need. But love won out in the end.
Dot's visits to his nursing home were something for him to look forward to and he was the man who kept Dot standing when times were hard.
Sadly Jim passed away whilst Dot was in prison. It's believed he had a heart attack and died in his sleep.
Played by John Bardon