Mr Church
Played by David Walliams.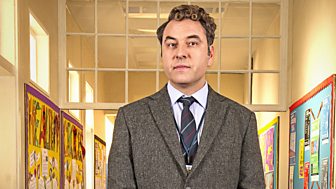 Deputy Head of Science, Mr Church has been at Greybridge School for 15 years.
Disillusioned with teaching, he is about to resign after a particularly dramatic experiment with liquid nitrogen and 1000 ping pong balls is met with apathy by his pupils.
However, the arrival of new French teacher Miss Postern changes everything - and Mr Church's resignation letter goes in the bin. He's socially awkward, but the presence of Miss Postern brings out the romance in his soul. Perhaps a lift home is the way to her heart? The course of true love never did run smooth – particularly in an Austin Maxi.