Are you ready to take control?
Here are all the details you need about how you can get involved with the show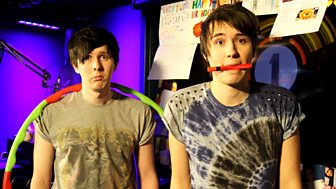 To watch the show just go to the Radio 1 homepage at 7PM UK time on any device with an internet connection and hit 'Watch'
During the Show
Twitter: We read out some of what you guys are saying to us on @BBCR1 as well as letting you know when the show is starting and more exclusive behind the scenes news from the studio.
Facebook: On the Radio 1 Facebook page we post a picture at the start of the show asking for your song requests, so let us know what you want us to play in the comments section. We also put the Dan VS Phil poll and exclusive pictures from the show here so make sure that you keep lurking there during the show to control us like digital puppets.
Text: You can text us on 81199 to apply for Fan Wars, send us a song request, or just to say hi!
Call: 03700 100 100 is the number you need to use if you want to make a request and talk to us on air. It could be to request a song or maybe you have a funny story that you want the world to hear? Call us from 18:40pm to 20:40pm on Sundays. If you're calling internationally, the number you need is (+44) 3700 100 100 (standard geographic charges apply to all numbers).
*Please note we are inundated with calls each week and eandeavour to speak to as many people as we can, but unfortunately cannot speak or get back to everyone who calls*
Fan Wars
So you want to represent an artist in Fan Wars? You want to have the entire weight of a fandom bearing down on your shoulders as you represent their very dignity in a battle for honour and the right to have their song played in front of millions, to the world?
At the start of the show we will reveal who the Fan Wars artists will be and if you think you have what it takes text 'Fan Wars' to 81199 followed by your name, the artist you want to represent, and why you think you're worthy to be their gladiator. Good luck!
Dan vs Phil
During every show we give you the opportunity to decide between two challenges that we perform live on camera! We release a poll on the Radio 1 Facebook page and it's up to you to vote and control our fate. 
Music Videos
Do you want to control the music played on Radio 1 and have your video watched live by the world? Then here's how!
Make a video to your favourite song, or a song that you have a vision for - upload it to a video sharing website, and email the link to danandphil@bbc.co.uk with the subject 'music video' - that's it.
The video can be anything you want set to a song. Don't be intimidated! We have had dancing pets, lip syncing, media coursework, drawn lyric videos, Doctor Who vs zombie battles and even an apple sent into space. You don't need a fancy camera, just get your friends together and think of a creative idea!
You don't even need a song. If you've made something visually cool that is around 3:30sec long, send it to us and we will set it to a song for you!
Try to pick a track people would like to hear - anything you want, and to whatever song you like from the past 15 years. You can look at the Radio 1 Playlist for inspiration here.
Unfortunately we can't get back to everyone who sends their video in so if you can't listen or watch the show make sure you check these pages on the Radio 1 website each week for the show playlist.
We receive a huge amount of videos each week and so we cannot guarantee that yours will be played - and there may be a delay in us being able to process them due to the amount that we recieve. We do however watch and appreciate all submissions - thank you.
If your video features footage from your school we'll need your headteacher's permission for us to consider it for the show.
Bit of legal for your attention now: Please note that we may need to reversion your video to make it broadcast suitable and there are some terms and conditions that we need to let you know about before you submit your video: terms and conditions.
Video Jingles
Maybe you want to get creative and make something for the show but you don't have the time for a whole music video?
Create a video jingle! Anything about 6 seconds long (with no audio) that we can use on the show. If you have a vision for the music we use to introduce Dan vs Phil or Fan Wars for example, send it in!
Be as creative as possible, it could be anything that represents Dan and Phil, or the show, or you. Just e mail the video or a link to the video to danandphil@bbc.co.uk.
Mail Us
If you want to send us pictures or anything to decorate our studio with, send them to:
Dan and Phil
BBC Radio 1
BBC New Broadcasting House
London
W1A 1AA
Please be aware that this address is only for post for the Dan and Phil studio decoration and Dan and Phil do not personally receive any of this mail.
Thanks for reading! 
Hopefully you'll be taking control of our show very soon...