Nicola Murray
Nicola is the Leader of the Opposition.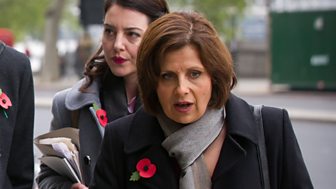 Formerly Secretary of State for Social Affairs and Citizenship, and before that a backbench MP with a few half-baked ideas, Nicola Murray has the knack of being in the right place at the right time. How else could one explain her meteoric rise to lack of power as leader of the opposition?
Dismaying talented rivals such as Dan Miller, by using the power of the transferable vote to ensure that her party got second-best when the chips were down, and then shuffled around using complicated rules.
Has a husband (just) who's involved with a PFI construction company, and four (mostly) teenage children. Glum.
Played by Rebecca Front