On the bird feeder
Situated just near our studio in Ynis-hir, we've got a continual procession of siskins, greenfinches, goldfinches, chaffinches, blue and great tits, to name a few.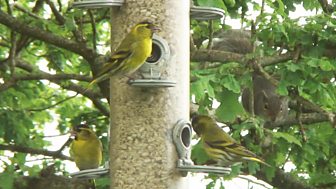 There is a good breeding population of siskins in this area, so we're enjoying seeing them in such numbers. So far, they seem to be winning the battle for control of the feeder.
However, despite the feeder having a squirrel baffle, the squirrels are taking leaps of another branch to get to the feed. We may have to move it slightly, but we know quite a few of you are enjoying watching these ever-resourceful squirrels - lets not start the squirrel debate right now!