Jake Humphrey
When Jake's not doing one of the coolest jobs in sport, he's going to be hosting Free Speech.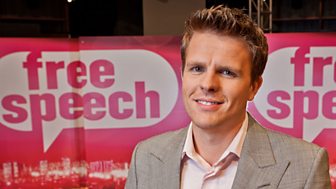 Driving the debate and steering the discussion as if he were in the fast lane of Formula One, Jake will keep the panel on their toes and the audience in their rows. He's got his work cut out there then.
Viewers will come closer to the decision makers and opinion formers of our country than ever before.

Jake Humphrey
Jake is most known for his BBC sports coverage, which sees him jetting off round the world to hot and exotic locations to watch sport all day. Not that we're jealous or anything.
He's had his finger on the pulse of politics for a while now. He studied A-Level politics at school, and one of his first jobs in TV was presenting Newsround on CBBC. So for Jake, delivering a debate around the big issues of the day comes quite naturally.