Kirsty Wark on the Mary, Queen of Scots exhibition
The first of our Edinburgh Festival specials on The Review Show visits the new exhibition "Mary, Queen of Scots" at the National Museum of Scotland in Edinburgh.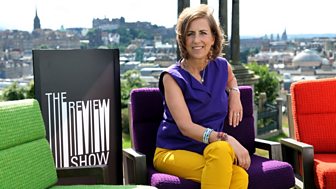 It is one of the most dramatic and tragic stories in Scotland's, and arguably England's, history: The killing of one queen by another, her cousin. Mary, Queen of Scots is perhaps best known for the manner of her execution – sanctioned by Elizabeth I. But a new exhibition at the National Museum of Scotland offers insights into the intense turmoil which infused the first twenty five years of her life; exile, widowhood, the brutal murder of her Secretary David Rizzio, the violent death of her second husband, Lord Darnley, and her marriage to the Earl of Bothwell, with whom she was implicated in Darnley's murder. 
your very humble and obedient daughter, Mary

Mary, Queen of Scots, aged 8.
Forced to abdicate in her favour of her son (King James VI of Scotland and James I of England) Mary escaped to England, dressed as an ordinary woman, and never saw Scotland, or her son again. This striking regal Queen, 5ft 11 inches tall, multilingual, cultured, musical, and a lover of books, could not navigate the way to restore her power- a Roman Catholic in a Protestant land, the centrifugal force of a religious storm.
It is wonderful to see a letter she wrote from France to her mother, Mary of Guise, aged just eight, signed, "your very humble and obedient daughter, Mary , and then to juxtapose that with the inventory of books, ornaments and masquing clothes she left behind when she fled to England. The exquisite Penicuik Jewels include a gold filigree necklace of pomander beads, and a double-sided priceless cameo pendant depicting Mary herself.
One of the most beautiful exhibits is an enamelled gold necklace said to have been presented by Mary to her most faithful lady-in-waiting, Mary Seton. Another of the exhibits is a fascinating satirical placard depicting Mary as a mermaid - a symbol, then, of prostitution - and Bothwell as a hare, part of his family crest, referring to their alleged adulterous relationship. The little card was sent to Elizabeth I's Ministers by an English spy.
The large-scale Marian Hanging comes to Scotland from the V&A for the first time – made up of embroidered panels on a green velvet background, mainly worked by Mary when she was held by the Earl of Shrewsbury, her principal gaoler, together with Shrewsbury's wife, Bess of Hardwicke. In the panels Mary interprets her life, including her marriage to the Dauphin, and to Darnley, and the central piece contains Latin inscription which translates as, "Virtue Flourishes by Wounding."
I toured the exhibition for The Review Show's Edinburgh Festival Special in the company of Liz Lochhead, the playwright and poet whose wonderful play Mary Queen of Scots had her Head Chopped Off did much to revive conversation and argument about The Queen that Liz described as one of Scotland's most enduring myths.
Find out more about the exhibition in the first of our Edinburgh Festival specials.