Yuanfan Yang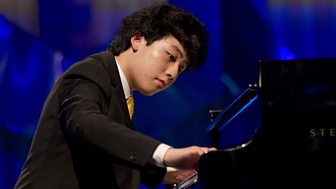 | Fact title | Fact data |
| --- | --- |
| Age: | 15 |
Yuanfan Yang was born in Edinburgh. He began learning the piano when he was six at the Horsforth Music Centre in Leeds before becoming a member of the Yorkshire Young Musicians - a programme which provides advanced training for exceptionally talented young musicians between 8-18 years old from the Yorkshire and Humber region.
Yuanfan passed Grade 8 with distinction at the age of eight and achieved a Diploma of the Associated Board of the Royal Schools of Music (DipABRSM) when he was 10. He started at Chetham's School of Music in 2008, studying piano with Murray McLachlan. He has participated in master classes with Christopher Elton, Joan Havill, Leon McCawley, John O'Connor, Noriko Ogawa, Graham Scott and Howard Shelley.
Yuanfan has performed at the Great Hall of Leeds University, the Leeds Town Hall, the Royal Northern College of Music Concert Hall and the Bridgewater Hall in Manchester. He has performed concertos by Chopin and Prokofiev with orchestras including the City of Leeds Youth Orchestra in 2012, the Royal Liverpool Philharmonic Orchestra and Leeds Sinfonia in 2010 and the Manchester Camerata in 2009. In 2008 Yuanfan played in the BBC Radio 3 Pianothon which was broadcast in 'Performance on Three'.
Yuanfan has won many competitions including the 2010 RNCM James Mottram International Piano Competition (under 19), the 2009 Manchester International Piano Concerto Competition for Young Pianists (age 16 and under) and the 2009 Ryszard Bakst Chopin Prize (Junior division). He was awarded the Walter Todds Bursary for his promising performance at the BBC Young Musician 2010 Keyboard Category Final. 2010 also saw him win both category and overall prize at the European Piano Teachers Association (EPTA) UK Piano Competition.
At Chetham's, Yuanfan also studies composition with Dr Jeremy Pike. His Fantasy in G for piano was broadcast on BBC Two in 2008 and his arrangement of Scarborough Fair was premiered in the BBC Young Musician 2010 Keyboard Category Final. His piano composition Waves won both category and overall award in the EPTA UK Composition Competition 2011 and was highly commended in the BBC Proms Composers Competition 2011.
His Haunted Bell won first prize in the Junior Group of the Golden Key International Piano Composition Competition in 2012. He performed this work as part of his BBC Young Musician 2012 Category Final and Semi-Final recitals and will perform it again in July at the Ehrbar Hall, Vienna.
Category Final repertoire
Beethoven: Sonata in E fl at, Op.7, 1st Mov: Allegro molto e con brio
Debussy: La terasse des audiences du claire de lune (Preludes Book II)
Yang: The Haunted Bell
Chopin: Sonata in B Minor Op.58, 4th Mov: Finale - Presto ma non tanto
Final repertoire
Edvard Grieg (1843-1907)
Piano Concerto in A minor, Op. 16
Allegro molto moderato
Adagio
Allegro moderato e marcato
'I'm playing all the right notes, but not necessarily in the right order...'
It's not often possible to open a programme note with a quote from a sketch but who can forget one of the best lines in British comedy history. Aspiring virtuoso Mr Eric Morecombe and his witless agent Mr Ernest Wise realise the game's up and that maestro André Previn is unlikely to invite him to play Grieg's Piano Concerto again.
There's no danger of that today as playing this most magnificent of concertos is Yuanfan Yang. Grieg composed his only piano concerto in the summer of 1868, soon after the birth of his daughter Alexandra. The Griegs travelled south for the summer, from Oslo to the village of Søllerød in Denmark, for their first family holiday. The setting was a beautiful country house, one of Denmark's oldest, called Mothsgården.
This proved the perfect setting for Grieg to compose his first orchestral masterpiece - bursting with youthful energy and unbounded enthusiasm. Like so many home thoughts from abroad, this music has come to represent an anthem to Grieg's homeland, evoking Norway's breathtaking landscape of mountains and fjords and - with references to local folk dances woven throughout the finale - its people.
One of the work's first admirers was one of history's greatest ever pianists - Franz Liszt. After sight-reading the piece through, Liszt sang its praises to the young composer: 'the memory of this hour will have a wonderful power to sustain me in days of adversity', said Grieg. The concerto itself has faced little adversity - flamboyant and majestic, it's a piece that has continued to thrill audiences for nearly 150 years, and it's sure to do so again today.