Steffan Garrero
A familar voice to sports fans on BBC Radio Wales.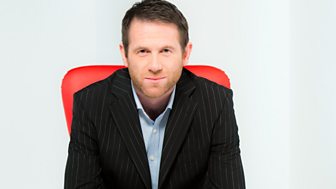 Steff joined the BBC Wales Sport department in 2000 as a trainee. They put him on Radio Wales within a week of him entering the building and he didn't sound too bad, so he's been here ever since. Following a stint on our screens on 'Sport Wales' he's now back behind the microphone as the host of our new weekday Radio Wales Sport show, live Monday to Friday from 7 PM.
Born and raised in Newport, Steff studied Modern History at Oxford University, confident that gaining an in depth knowledge of the Habsburg Dynasty would prove vital to his future career of reading out football scores.
Steff started out on Good Morning Wales as the regular sports presenter, but after three years needed some sleep and moved to Good Evening Wales. He's covered World Championship boxing, World Cup rugby, Ryder Cup golf and FAW premier cup football.
After several years presenting the Saturday morning sport show The Back Page Steffan made the move to become the main presenter of Radio Wales Sport in August 2010. A sideline in voicing TV shows such as The Great Match and Rock 'n' Rugby Years foretold a move to our TV screens a couple of years later as one of the reporters on the BBC Wales TV show 'Sport Wales'.
Steff says he's excited to be back on the radio fronting the new weeknight Sports show.
"After a year messing about on TV with Sport Wales it's nice to be asked back to present on Radio Wales and the challenge of a nightly sports show was too good an opportunity to turn down. It's a big year for Sport in Wales with two Premier League sides for the first time, the successful Lions Tourists coming back to their regions and the build up to next summer's Commonwealth Games in Glasgow.
"Hopefully we can try to combine the live sport with getting under the skin of the stories which make Welsh sport so intriguing… kind of a combination of your favourite newspaper's sport supplement and a trip to watch your team play…"