Julie Graham
Julie Graham plays Rhona Kelly in the new series of Shetland.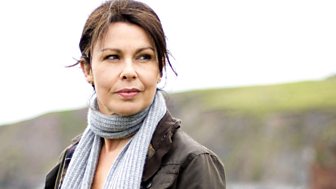 Your character, Rhona Kelly, is new to the Shetland team – can you tell us a little bit about her?
Rhona's there to keep Perez in check and bounce work off him. She is his boss after all

Julie Graham
Well she's the tough, uncompromising Procurator Fiscal. Rhona's obviously got a very good relationship with Perez - they've worked together for some time so she has a very easy way with him but you know she doesn't take any prisoners and has a no-nonsense approach to work. She can take the hard line but it's always fair.
What do you think she brings to the drama dynamic?
Rhona's there to keep Perez in check and bounce work off him. She is his boss after all.
What attracted you to the project?
The quality of the writing. It's something that's dramatically different not least because of the landscape. Shetland is different from the 'normal' detective genre. I always love to come back to Scotland to work so it's a joy for me and wonderful to work with such fantastic cast, directors and writers.
Was it good to return to Scotland?
It's always great to have an excuse to come home and I loved filming in Shetland. It's very bleak but beautiful and I think there's something quite magical about it too. The people are incredible. You've got to want to live there so there's a great sense of contentment up there along with a great sense of humour and feels very much like it's part of Scotland although geographically it's closer to Norway. I think the location adds huge amounts to the show.
How was it working with Douglas Henshall?
Oh it was lovely. I worked with Dougie years ago on his first film called The Big Man and we were the 'baby' actors of the film. So we've known each other for some time but this was the first time we'd worked together in years and it was lovely.
I'm a huge fan of his I think he's a brilliant actor and I'm always a huge fan or everything he's done so Dougie was a huge draw to this drama. We had a lot of fun. It's nice to spend time with him and hang out as well as boss him about – that was the best fun.
Any memorable moments from the shoot?
This could only happen in Scotland really. I had a day off so thought I'd be adventurous and planned to take the ferry over to Mousa but I missed it so I called the ferryman. He said, "Are you an actor?" and I said, "Yes, how did you know?" and he replied, "Oh, they're always missing the ferry!"
Because I was working the next day he came all the way from Mousa just to get me. He arrived with this gorgeous old fisherman. They collected me and we had an absolute hoot on the way over. As he left he said, "Now don't miss the return ferry or you'll have to sleep in the fisherman's cottage!". So I spent four hours there having the most wonderful time just wandering around, it was beautiful seeing all the wildlife.
When I got back to the ferry port and they said, "I don't suppose you have a lift back to Lerwick do you?" and I said, "No I don't" and he said, "Auch come on then, we'll drive you!". So they were like my personal taxi drivers for the rest of the day. I bought them a pint to say thank you.
Do you enjoy crime fiction?
I read a lot of Agatha Christie when I was a teenager because my mother was a huge crime fiction fan and I really loved it because they are such clever books, so well written and absorbing. I absolutely love Sherlock – it's one of my all-time favourites.