Rozina Sini
Bradford born Rozina studied hard to achieve her ambition of working in the media.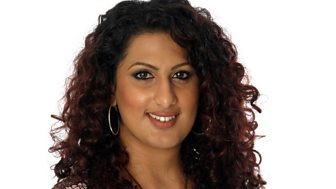 She completed a degree in Broadcast Journalism at Nottingham Univeristy and joined the BBC Asian Network in 2001. She quickly established herself as an integral cog in the News Team, when only three months into her new job, she led reports into the 9/11 attacks. Just one year later, her career in the media was cemented when she became a Senior Broadcast Journalist.
Since then Rozina has reported on a wide range of news stories, from the assassination of Benazir Bhutto, to the Pakistan Earthquake and London's July 7th Bomb Attacks, as well as entertainment features, including the Filmfare Awards.
She has enjoyed interviewing Shah Rukh Khan and Kareena Kapoor, but the man she would love to sit down and chat with is US President Barack Obama.
Rozina takes a break from news by watching Bollywood movies and Reality TV Shows and reading too much celebrity gossip!