Barry Crawford
Police Sergeant Barry Crawford is just months from retirement after a career with Lothian Police.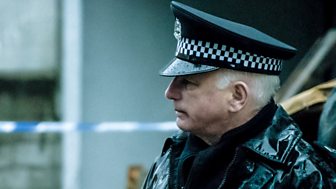 Biog
He worked the beat with Tracy when they were both starting out and is still in touch with her. Barry is the type to keep his head down but is not unthinking or lacking in compassion. He's aware he is a project of a different policing era, he's not a natural bigot and even though he trips up in his politically incorrect language with Louise, for example, he sees that the world has changed. And as Jackson's case progresses Barry has to acknowledge the institutionalised corruption, to which he was in thrall in his youth and that maybe as he is drawing to the end of his career, his is willing to make different choices.
Gary Lewis
He has had parts in Billy Elliot, Gangs of New York, Eragon and Three and Out, as well as a major role in the television docudrama, Supervolcano. He was nominated for a Bafta for best supporting actor for his role in the Biopic drama Mo. He has two films currently in Post Production Libertador and Something Good. His most recent credits include: Filth 2013, Not another Happy Ending 2013, Waiting 2013, The Devils Plantation 2013, Merlin (TV Series) 2011-2012.