Fern Britton
Experienced host and enthusiatic gardener Fern isn't afraid to get her hands dirty down on the Patch!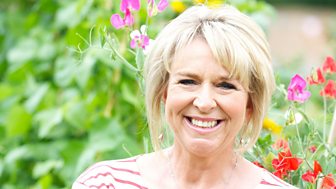 Careers don't get much more varied than Fern's - she's kept her cool in the kitchen fronting Ready Steady Cook, survived a decade of early starts while at the helm of This Morning and is not to be underestimated in the newsroom - after all, she did manage to make Tony Blair to admit his intention to invade Iraq regardless of whether the country owned WMDs or not!
I have very fond memories of eating freshly picked peas from my Mum's vegetable patch. I must have been about five!

Fern Britton
Away from the nation's screens, Fern's also embarked on a successful career as a writer, having published an autobiography and a number of popular novels.
This green-fingered host has always enjoyed gardening, so presenting The Big Allotment Challenge is surely the perfect opportunity for her to learn some extra skills! Fern's claimed to have gone 'mad' for growing and is even planning to grow a cottage border at home.
Fern says; "I grow tomatoes, peas, carrots, artichokes, spuds and courgettes to varying degrees of success. My younger daughter loves to help me and now my elder daughter (having visited the Patch Allotments), is keen to start a little veg patch with her friends."
We're still waiting on that invite to dinner, Fern...
More from The Big Allotment Challenge