Clemency Burton-Hill
TV presenter, musician and writer. Clemency is a regular face on BBC Two's The Culture Show and The BBC Proms.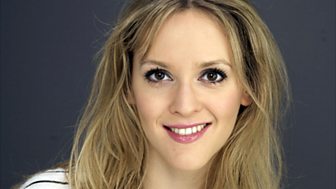 She has fronted the BBC Young Musician of the Year 2010, Leeds International Piano Competition 2009 and Visionaries.
Clemency is a professional violinist. She has performed as a soloist, chamber and orchestra musician all over the world.
She has been an active member of the Choir of London and their work in the West Bank and Occupied Palestinian Territories since 2004. She has worked on music and education projects in South Africa, Rwanda, Kenya and Sierra Leone. She is also a Trustee of the charity Dramatic Need, which enables volunteers from the arts to work in impoverished rural communities in Africa.
After graduating from Cambridge, she joined the fashion features desk at Vogue as a staff writer aged 22, and the following year became the UK's youngest broadsheet columnist for The Daily Telegraph.
Clemency has been acting since childhood, taking roles in TV dramas including Party Animals and Hustle.
Clemency's first novel, The Other Side of the Stars, was published by Headline Review in 2009, and she has signed a further two-book deal.