Tila & Tavelah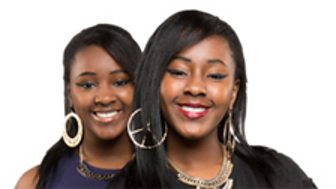 | Fact title | Fact data |
| --- | --- |
| Age | 18 |
| Hometown | Leeds |
| Favourite Voice | Lauryn Hill, India Arie, Beyonce, Michael Jackson. |
Tila:"We come from a very musical family. Our mum and auntie used to sing backing vocals – they sang with Peter Andre and Boyzone. My dad was the drummer for people like Gnarls Barkley and Finlay Quaye.
Growing up we have been best friends and super close

Tila & Tavelah
So we have been inspired all our lives around music. As you can see we are twins - I am the oldest one I was born 5 minutes before Tavelah, so I'm definitely the bossy one of the two of us!"
Tavelah:"Growing up we have been best friends super close. Music is definitely what we want to do with our lives, although we're both studying psychology at university, music and singing is our passion.
The Voice is going to be an amazing opportunity and we can't wait to get on that stage."
DO YOU HAVE ANY BAD HABITS?
Ti: Not really
Ta: Not Really
WHAT'S THE BEST THING YOU'VE EVER DONE?
Ti: Performed at Temple Newsom for the Olympic torch ceremony
Ta: Sang for the Olympic torch ceremony at Temple Newsom in Leeds.
ANY PHOBIAS?
Ti: Heights and moving grass
Ta: No
WHAT'S YOUR MOST EMBARRASSING MOMENT?
Ti: Once I was walking through school and saw my 'sister' in a window. So kept waving until I realised it was me, my reflection! That's twins for you
DESCRIBE YOUR PERSONALITY IN 3 WORDS
Ti: Happy, silly and focused
Ta: Optimistic, outgoing, organised