Alex Norton
Alex Norton plays Cameron Watt in the new series of Shetland.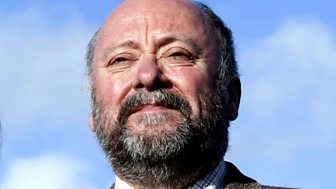 Tell us a little bit about your character, Cameron Watt…
He's one of the major leaders of a protest group who are in opposition to a gas company who want to lay a pipe across the island. He's a very controlling character

Alex Norton
Well he's a widower who has a daughter. He's a traditional boat builder who makes Ness Yoals [traditional Shetland boats] and he's very keen on preserving the traditional island way of life. He's one of the major leaders of a protest group who are in opposition to a gas company who want to lay a pipe across the island. He's a very controlling character, not least of his daughter, Evie.
What's the storyline you're involved in?
It's mainly about the gas company trying to get their way and the protest which surrounds it. One of the main problems they have is they'd need to run it across some land which is owned by one of the older members of the community, played by David Hayman - and he will not sell the land. So he's become a bit of a thorn in the gas company's side. And when my daughter's fiancé is killed in a car crash, it seems there was more to it and there's a chance he was bumped off and, if so, why?
What attracted you to the project?
Well Bill Paterson is one of my oldest pals and had shot a couple of episodes in this new series [Paterson plays Perez's father, James, in episodes 5 & 6] and he'd said to me it was fantastic and one of the best jobs he'd ever done. He loved it up there. At first I wasn't too sure, I thought it was terribly far away but he was raving about it. Then out-of-the-blue I got offered the part of Cameron and I thought "that'd be lovely!". So there were two reasons really – first of all I loved the character, I really wanted to play Cameron as he was so excellently written. And, also, to go up to see Shetland and see what all the fuss was about!
So did it live up to your expectations?
Oh yes, I loved it. The first thing I did when I got there was text Billy back and say "you were right!". I can't praise Shetland highly enough.
How did you find filming in Shetland?
Although I've toured all over Scotland with the 7:84 theatre company with Billy Paterson, I'd never been to Shetland in my life. On my day off I hired a car and travelled round the island and was completely and utterly blown away by it. It's absolutely magical and I fell under its spell.
I'm a great history fan and I saw sights there I'd never seen before anywhere in the world. Gobsmacking, I was nearly in tears. The history of Shetland is incredible. I'd never seen a pictish broch [an Iron-Age structure unique to Scotland] before - I'd read about them but never actually seen one.
You've got a tremendous background in successful crime drama. What makes Shetland stand out?
It's such a refreshing change from the American car-chase crime dramas. It takes its time to tell the story and tells it really well, drawing the viewer in slowly. It's not about people jumping up and rushing out to catch the bad guys, which is wonderful. And, of course, the actual scenery of the place lends a great deal to the drama. Just as Taggart had Glasgow at its heart, Shetland becomes an integral member of the cast in this drama.
How was it working with Douglas Henshall?
We'd worked together before in a film called Orphans. I was the bar man from hell and I had to lock Dougie's character in the cellar. I get my come-uppance when Dougie and the other people I've locked in the cellar break out, grab me and use my bum as a dart board. So Dougie and I go back a long way!
Any memorable filming experiences?
Absolutely, working with a local man called Tommy Isbister, who is a boatbuilder. I spent a day with him being shown how to use his tools so I'd look like I knew what I was doing. He was the most fantastic character. As well as boats, he made fiddles - there was nothing Tommy didn't know about wood. It was a privilege to spend time with the man. I've now got a new skill to add to my CV – boatbuilder. So if the phone stops ringing with acting work, I'll be out there making Ness Yoals!