Katie Derham
Katie Derham is a presenter on BBC Radio 3's Afternoon on 3 and Breakfast programmes.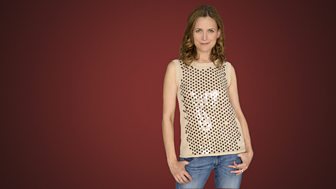 As of July 2010 she has also been fronting the coverage of the Proms for BBC Two, and Radio 3 following her move from ITN.
After reading Economics at Magdelene College, Cambridge, Katie started at the BBC as a researcher on Radio 4's Moneybox and Financial World Tonight. After stints on business programmes like Moneycheck on Five Live, Business Breakfast and Working Lunch, she became a reporter on Barry Norman's Film 96 and 97.
In 1998 she joined ITN as the Media and Arts Editor for ITV News and, at the age of 27, became the youngest newscaster on British national television since ITN's creation in 1955. For five years she covered showbiz events around the world and hosted the Classical Brit Awards four times. She then presented ITV Lunchtime News for six years before taking a leading role as an anchor in the coverage of elections, royal weddings and the wars in Afghanistan and Iraq.