Lily Pargetter
The Pargetter twins didn't have an easy start.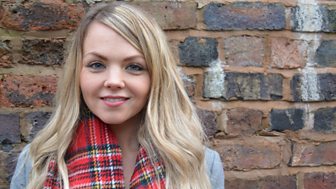 | Fact title | Fact data |
| --- | --- |
| Played by: | Katie Redford |
| Born: | 12 December 1999 |
| Occupation: | Student at Borchester College |
| Lives at: | Lower Loxley Hall |
Both born by Caesarian section because of their mother Elizabeth's heart condition, underweight Freddie was in special care for several days. As the twins entered their final year at Loxley Barratt Primary, Nigel conceded to Elizabeth's reluctance to send them away to boarding school. But it was tough for Freddie, as Nigel insisted that he and the more capable Lily be crammed for the exams for Felpersham Cathedral School.
Lily reacted to her father's death with anger, and subsequently showed quite a tough side, in comparison to the softer personality of her (only just) younger brother.
I may just faint from hunger ... oh look, I have.

Lily Pargetter
Likes - Bell ringing, school work, sarcasm
Dislikes - Sitting still, being quiet
Highs - Getting into Felpersham Cathedral School (not that there was much doubt)
Lows - The untimely death of her father
Katie on Lily
I believe Lily to be an extremely bright, confident, social butterfly with quite a charming wit to her. Despite her youth, she's been through an awful lot and I think she's developed a much thicker skin due to tragic past events. I also think she's fiercely loyal. Her Mum and twin, Freddie, mean the world to her.
Katie Redford
Originally from Nottingham, Katie moved to London to go to university. Once she'd graduated, she decided she'd procrastinate that little bit more and ended up working as a lifeguard in America. After a few travelling stints around America and Europe, she came back to the UK and began working in television as a floor runner. However, she became too jealous of the people in front of the camera, so packed it in and went to train as an actor with The National Youth Theatre.
Katie then won The BBC Norman Beaton Fellowship in 2015 and as a result, was a part of The BBC Radio Drama Company for 6 months. The scheme gave her an incredible opportunity, where she worked on a huge variety of radio plays including The Forsyte Saga, Community Service and Charles Paris, just to name a few. She was also a regular in BBC Radio 4's Home Front playing Ruth Billings and continues to play Layla in BBC Radio Comedy's All Those Women. Katie made her Archers debut in 2015, playing Ellie; Helen and Rob's Midwife and is thrilled to be back.
Katie is also a writer and has recently won BBC Writersroom 2016, resulting in her now being part of a writers scheme with BBC Comedy. She's also written for theatre and has had her work staged at The National Youth Theatre, Soho Theatre and Theatre 503. Her recent comedy script won The Comedy Project at Soho Theatre, which is now in development with TV. She's also a resident blogger for Spotlight.
Katie loves tea, Peter Kay, running (well, jogging. slowly), anything Christmas related and any form of cake.
Favourite
Favourite Actor - Every time I see Hermoine Norris in something, I'm mesmerised. She's got an unpredictably about her which for me, makes her fascinating to watch.
Favourite Book - One Day by David Nicholls. I did Camp America a few years ago and this book got passed around the camp and once it was passed on to me, I couldn't put it down. The story and characters were so believable and I remember feeling genuinely gutted about certain events in the story!
Favourite Film - This really depends on the time of year/mood/life in general, but The Sound Of Music was the first film I ever watched and it still remains a favourite of mine.
I would still like to...
I'd still like to perform at The Stephen Joseph Theatre in Scarborough whilst being directed by Alan Acykbourne. Scarborough was our annual family holiday destination when I was growing up and the first piece of theatre I ever saw was a play written and directed by Alan Ayckbourne at The SJT. I must have been about 5 years old and remember feeling completely in awe of everyone on the stage.