Bob Adams
Loyal and loveable, Bob wants nothing more than to live happily in Shieldinch surrounded by friends and family. He genuinely wants the best for everyone, except, perhaps, Lenny Murdoch.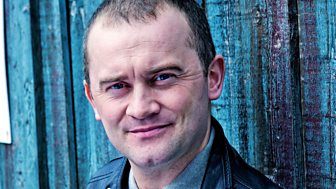 Bob's moral code is strong and he's led by his conscience. Pure of heart and morally courageous, Bob usually knows the right thing to do.
Family is key to Bob but his upbringing wasn't always picture perfect. There was no love lost between him and his father, Paddy, who was an abusive bully. And he was devastated to discover his mother, Scarlett, was in fact his aunt who raised him after biological mother, Theresa, abandoned him.
Biology aside, Scarlett loves her "Bubba" more than words can say. Although he initially resented the secrets and lies, Bob forgave Scarlett and their relationship is stronger than ever. He's never happier than when he's surrounded by family – mum Scarlett, step-dad Jimmy, sister Kelly-Marie, gran Molly, uncle Bob and nephew Callum.
Although Bob has an abundance of family love, he's not been so lucky when it comes to finding love. Failed relationships including Charlie and Nicki, Bob finally looked to have found happiness with Stella. But happily-ever-after proved short-lived as fertility issues overshadowed their marriage, followed by Bob's depression and Stella's infidelity with barman Stevie.
After losing right-hand-man Deek Henderson, who died in a hit-and-run accident, Bob recently forged a new friendship with Angus Lindsay. But will this 'bromance' help or hinder Bob? Only time will tell…
Stephen Purdon
Stephen plays Bob Adams in River City.
Joined River City - 2002
From - Glasgow
Star Sign - Gemini
Loves - My Wife, My daughter, football and my playstation!
Loathes - Cricket and seafood!
TV Treat - The Sopranos, Dexter, Boardwalk Empire, The Wire, Breaking Bad