Iceland
Representing Iceland are Pollapönk with No Prejudice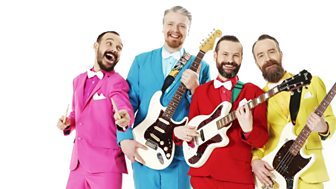 Pollapönk were formed in 2006 by founding members Haraldur and Heidar who created the band while graduating from the Icelandic University of Education as teachers. Their first album was actually recorded as part of a final university project.
We wanted to try to make song that was not a typical Eurovision song but with a catchy melody

Pollapönk
In 2007 drummer Arnar Thor Gislason (Haraldur's brother) and bass player Gudni Finnsson joined the band.
Pollapönk have recorded two subsequent albums and played countless gigs, supporting the likes of Blur, The Prodigy, Suede and Pulp on their European Tours.
When not part of the band, Haraldur is chairman of the Icelandic association of pre-school teachers and Heidar is also a pre-school teacher. Their ambition is to educate both children and adults about the right to live harmoniously within the diversity of the rest of the world.