Jonny Pelham
Congratulations Jonny! How does it feel to be a finalist?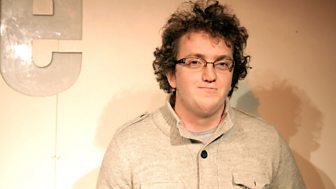 Thank you. It feels great!
I walked into the green room and Miles Jupp was there eating a sandwich. It was like an excellent dream.

Jonny Pelham
Why stand-up comedy?
I am not sure, it is just always something I have wanted to do. It is scary but in a good way, like sky-diving, rather than being attacked by a bear.
Tell us about your first gig
My first time doing comedy was an audition-like thing underground at Newcastle Students' Union in front of about seven people, all of whom were the other acts. No-one laughed. I remember leaving thinking, well that was rubbish, but it least it can't get any worse. It turns out it can.
However, sometimes it goes well, and then you have a temporary feeling of happiness/superiority.
Why did you enter the Award?
The BBC is such a prestigious name and it just felt like a great opportunity.
What's been the highlight so far?
At the Birmingham semi-final I walked into the green room and Miles Jupp was there eating a prawn sandwich. It was like walking into an excellent dream.
What the BBC Radio 2 listeners can expect from your performance at the live final on Monday 9th December?
Just words really. Sometimes I change the tone a bit. That usually indicates a joke.
Do you have a secret skill you'll be unveiling at the final?
Maybe. I don't, but 'maybe' is more interesting than 'no'.
If you win, what will you spend the £1000 prize money on? Do you have any plans for your own radio show?
I would probably buy and partly insure a car. Not a good car like on television, more like one you see on the side of a motorway.
Finally, why should people vote for you as the winner of the BBC Radio New Comedy Award 2013?
Because I am class. And it is Christmas soon.