Nicholas Mitchell
Nicholas Mitchell has a broad knowledge of antiques having spent all his working life in the trade.
| Fact title | Fact data |
| --- | --- |
| Joined the Roadshow: | 1985 |
| Memorable find: | Pictorial barometer |
Over the course of 40 years, Nicholas has been involved in almost every facet, from shop owner to auctioneer and restorer to lecturer. Nicholas's main areas of interest are 'traditional' antiques and the history and social history associated with them.
Nicholas has been involved with the Antiques Roadshow since the mid-1980s. His main role on the programme is behind-the-scenes, selecting and arranging for the transportation of larger items to Roadshow events in response to correspondence from viewers. With nearly 30 years experience on the programme, Nicholas is a dab hand at matching objects to experts.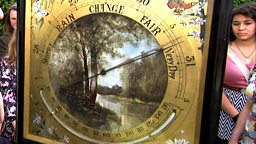 On the recording days, he can usually be found on the reception desk, but occasionally, he can be persuaded to appear on camera. Although he has a particular interest in clocks and 19th Century furniture, Nicholas has recorded a variety of items for the programme, including primitive toys, Windsor chairs, and wooden shoes. However, one of his most memorable finds is a barometer that came along to the Roadshow at Lulworth Castle in 2011. Nicholas described this late 19th Century French barometer, decorated with butterflies as "the prettiest, the most beautiful, the most unusual, and the best quality".