Robbie Fraser
Fun-loving, loyal and caring, hairdresser Robbie has a heart of gold and a vulnerability to match.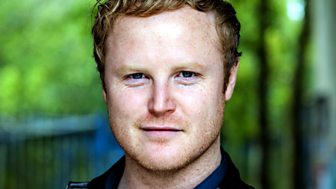 A talented hairdresser who owns and runs Shieldinch's salon, Robbie doesn't like to show people his ambition – that makes him feel vulnerable – but despite his fun façade there's a hidden depth and determination.
Mischievous, cheeky and not averse to a right good gossip, Robbie's a loyal and trustworthy friend who goes out of his way to take care of those he cares for. A kind hearted soul and tremendous company, if you're friends with Robbie he'll be there for you through thick and thin.
Robbie's sexuality has never been an issue for him and his family. His parents have always been accepting of their gay son especially his mother who actively rejoices his sexuality. So it came as some surprise to him to experience homophobia from Will's father, Edward Cooper. Thankfully he's surrounded by supporters in Shieldinch not least Kelly-Marie and Molly who adore him.
A hopeless romantic, Robbie hasn't always been lucky in love but in DC Will Cooper he thought he'd found his perfect partner. That was, until domestic violence reared its ugly head in their marriage. No matter what happens between Robbie and Will there's a bond there which can't be broken and, above all else, Robbie just wants a happily-ever-after with Will.
Confident Will had turned over a new leaf, Robbie gave their marriage another chance and together they decided to foster, welcoming foster-son Finn into their home. But fatherhood's proving something of an upheaval for Robbie, creating a divide between him and Will.
Gary Lamont
Gary plays Robbie Fraser in River City.
Joined River City in - April 2009
From – Glasgow
Star Sign - Pisces
Loves - Prosecco
Loathes - Small mindedness
TV Treat - Anything done by HBO whilst scoffing peanut M&M's