Mute swans
This family of swans are living in an area we're calling the marsh, near our studio where Springwatch is filmed.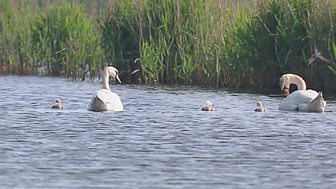 The marsh seems to have been formed where a former drainage ditch has been allowed to flood, creating a sheltered backwater for our swans.
There are 3 cygnets, a small brood for swans, but there were 3 eggs when we first saw them and we don't think they lost any prior to that. If a predator takes one egg, they'll usually return for more.
We're also seeing mallards, canada geese, the odd heron and other water birds, some of which the swans had been chasing away but they seem more relaxed parents now, maybe because their cygnets are getting bigger, maybe he's just tiring of his parental duties.