Jase Dyer
Jase pitched up in Walford to salvage his relationship with his son, Jay. His past came back to haunt him and he was stabbed to death by gang leader, Terry.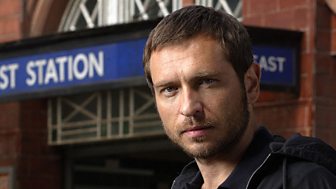 | Fact title | Fact data |
| --- | --- |
| First appearance: | 19th July 2007 |
| Last appearance: | 28th August 2008 (Deceased) |
| Occupation: | Odd job man |
In search of his tearaway son, Northern soul Jase Dyer headed south to Walford. With a past he would rather forget, it was a fresh start that Jase wanted. But his gangland days soon came back to haunt him.
There's no point talking about it.

Jase Dyer
Keeping Jay on the straight and narrow proved to be a full-time job for the softly spoken ex-con – but he still found time for a bit of extra-curricular. After a brief fling with Roxy Mitchell, he got together with the glamorous Dawn Swann and proposed.
Jase was hailed a hero when he saved Dawn's daughter Summer's life, catching her when she was dropped from a first floor window after scary baby-stealer Dr May Wright kept Dawn and Summer hostage.
But it was his disturbing relationship with his nemesis, gangland boss Terry Bates, that was to be Jase's downfall. The night before his wedding to Dawn, he was tracked down and attacked by Terry who sought revenge for Jase leaving the old firm.
With a bereft Dawn and angry son Jay out for revenge, Jase died in hospital. He may be gone but never forgotten - least of all by Billy Mitchell who stood by and watched him die, and will forever live with the guilt...
Played by Stephen Lord