Robert Strickland
Deputy Assistant Commissioner Robert Strickland is a political animal.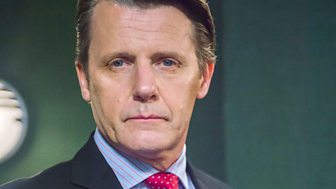 | Fact title | Fact data |
| --- | --- |
| Job title | Deputy Assistant Commissioner, Metropolitan Police |
| Played by | Anthony Calf |
Strickland is the figure of authority in UCOS' merry band of renegade ex-detectives. When they attempt to be step over the line, he is quick to put them back in their place before his seniors get wind of their activities. Though their exploits are at odds with his by-the-book approach, he secretly admires their tenacity and is proud to show off their results to the rest of the force.
However, Strickland knows that if cuts are to be made, UCOS will be the first to go and, though he is sometimes frustrated by the team's lack of regard for the rules, he has become very fond of the unit. They are instinctual, skilled detectives and their work speaks for itself.
This series he faces his biggest fight to keep the unit intact yet, when one of their own is implicated in a case that spans three decades and shakes the police force to its core.
Anthony Calf
Following his television debut in Doctor Who in 1982, Anthony has since appeared in a host of programmes, from The Inspector Lynley Mysteries, Judge John Deed, Pride and Prejudice to Holby City. He has also appeared in episodes of Doc Martin, Foyle's War, Midsomer Murders and Agatha Christie's Poirot.
Anthony has taken to the stage in an array of productions, including The Madness of King George III, A Midsummer Night's Dream, The False Servant and Rock 'n Roll.