Ed Sheldrake
Who are you and what do you play in The Horne Section?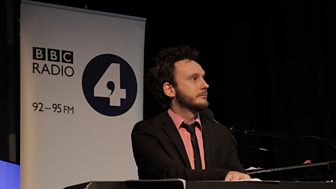 Hello, I'm Ed Sheldrake. I am a first study Keytarist, I also play the piano.
I like skipping, without a rope.

Ed Sheldrake
If you each had a nickname (a bit like the Spice Girls), which 'Horne' would you be?
'Unbelievable Horne'. I am prone to dishonesty.
Do you have a signature move? What is it?
Skipping. I like skipping, without a rope.
How were you recruited for The Horne Section?
I met them in the toilet at a disco party in Köln.
What did you do before you joined the group?
I led a life of musical crime.
What are the best and worst gigs you've ever played?
Best gig: Drewsteington with the 'Will Collier Septet' in 2011. I reduced a woman in the front row to tears with a solo piano intro. They looked like happy tears, I think.
Worst gig: my first ever gig aged 10, I tried to play 'Riding on a Mule' but could only remember the first six notes. Still got paid though.
You must have spent a lot of time with the rest of the band. Do any of them have any strange and disturbing habits you could share with us?
Despite Mark's grumpy demeanour he insists on starting every gig by cuddling each member and whispering a few words of gentle encouragement in our ears.
What's the most divine piece of music your ears have ever encountered?
When I was 13, Mum bought me a jazz compilation tape from Argos which featured Ben Webster playing 'Our love is here to stay'. It blew my mind and melted my heart and started my love affair with Jazz. I still haven't forgiven my mother.
As part of The Horne Section, you must have worked with some pretty excellent comedians – can you tell us about some of those?
Tim Minchin told me to get off the stage (in a somewhat more profane manner) and then proceeded to break my keyboard. He had to beg me to come back to fix it.
Finally, are you seeking world domination and how will you know when you've achieved it?
I have already achieved it, so subtle and cunning is my power that nobody has realised it. How else could the Horne section get a second radio series?