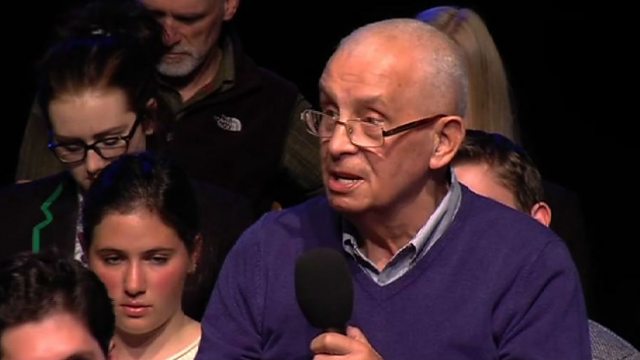 Scottish referendum: Can the NHS thrive in an independent Scotland?
Undecided voter, Jack, questions the future of the NHS in an independent Scotland during Victoria Derbyshire's Scotland Decides debate in Dundee.
Jack, from the Pensioners Forum, said he is closer to voting no rather than yes to making Scotland an independent country because of his experience as a hospital patient.
SNP member for Dundee City East, Shona Robison said "Do we think the NHS is more protected in the hands of the Tories? The best way to protect the NHS is with a yes vote so that we can take forward the NHS...and fund it in the way it needs to be funded."
Edinburgh business owner Daniel Johnson questioned Shona Robison of the Yes Campaign's stance on budget asking "Which year in the last four years has the budget gone down?"
Liberal Democrat MP for East Dunbartonshire, Jo Swinson, of the Better Together campaign claimed "The Institute for Fiscal Studies has pointed out there would be a £6bn black hole to be found by an independent Scotland...putting the NHS at risk."
This clip is from Victoria Derbyshire 2 September 2014.
Featured in...
The best of 5 live's interviews, insight and analysis of the Scottish referendum.