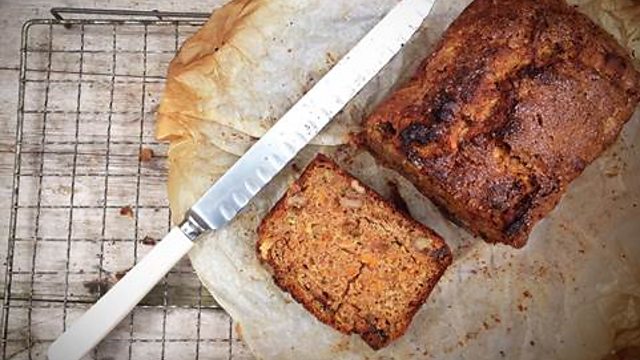 Food Friday: Spiced courgette, carrot, date, apple and brandy cake
Spiced courgette, carrot, date, apple and brandy cake: (makes 2 x 2lb loaf tins)
This is perfect for using up a glut of apples, courgettes and carrots from your veg plot. It's also a brilliant way of getting kids to eat more veg, just swap the brandy for the juice of one whole orange instead. This recipe makes 2 cakes as one is never enough and your friends will love to receive one, perhaps in exchange for some of their home grown veggies even :)
150g dates, stones removed and roughly chopped
50ml brandy (or juice of 1 orange)
1 large courgette (250g) grated (leave skin on)
1 large carrot (200g) peeled and grated
1 large apple, grated (leave skin on)
zest of 1 orange
4 eggs
250ml corn oil (or veg or sunflower), plus extra for greasing
200g soft light brown sugar
2 caps vanilla extract
400g wholemeal self raising flour
100g walnuts, roughly chopped
4 teaspoons ground cinnamon
1 teaspoon freshly grated nutmeg
1 small pinch ground cloves
4 tablespoons Demerara sugar
1: Soak the dates in the brandy for a few hours or preferably overnight.
2: Heat the oven to 200C and line and grease 2 x 2lb metal loaf tins.
3: Combine the grated courgette, carrot, apple and orange zest in a bowl.
4: Beat together the eggs, sugar, oil and vanilla until pale and fluffy, stir in the dates,
brandy and grated fruit and veg.
5: Sift together the flour, cinnamon, nutmeg, cloves, add the walnuts then stir the dry
mixture into the wet mixture making sure that the flour is thoroughly combined.
6: Divide the mixture between your loaf tins and top with the Demerara sugar. Put in the
oven and immediately reduce the heat down to 175C, bake for between 50-60mins, the
cakes are ready when a skewer is removed from the centre of the cakes clean.