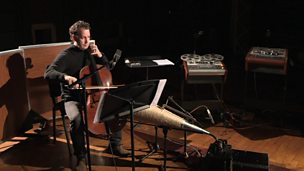 Christopher Fox's 're:play' with Anton Lukoszevieze & Aleksander Kolkowski
Duration: 11:40
A film documenting the recording of Christopher Fox's new piece re:play, written for cello with recording devices. Wax cylinder, reel to reel tape and dictaphone are used to make real-time recordings during the performance. "It's a piece which unrolls its own history" says Fox, "so that it begins 'finished' and then reveals its components – bowing patterns, bowing rhythms, double-stop combinations, left-hand positions – but it's also a piece about trying to remember an idea; the recordings act as a reminder of that first thought which can't quite be recaptured." Presenter Robert Worby interviews the composer, together with sound recordist Aleksander Kolkowski and the soloist, Anton Lukoszevieze. As featured in BBC Radio 3's Hear and Now on 23rd August 2014.
Available since: Fri 22 Aug 2014
This clip is from
Robert Worby with performances from the Smith Quartet and percussionist Joby Burgess.
First broadcast: 23 Aug 2014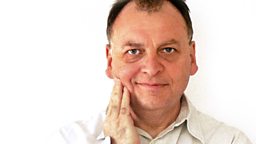 More clips from Smith Quartet and Joby Burgess