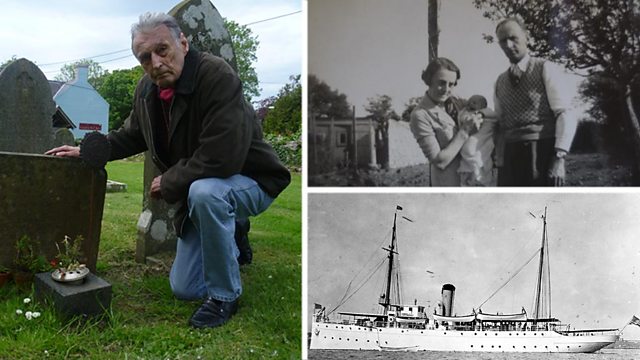 Lamphey, Pembrokeshire: Mourning Her First Love
In 1917 John Griffith's mother, Cicely Sandercock, attended a ball at Tenby's De Valence Gardens held in honour of the crew of a visiting US convoy ship, USCG Tampa. She was the daughter of a Tenby alderman, and that night she fell in love with a dashing American seaman. His name was Jack Healey. With all due propriety Jack asked Alderman Griffiths' permission to court the girl, and chaperoned by her younger sister and another US sailor the couple walked out together, enjoying one another's company. It's possible they became engaged; it seems certain that they planned to spend their lives together.
That idyll was suddenly shattered on 26th September 1918 when a German torpedo fired by UB91, (a relic from which stands in the centre of Chepstow today) sank the Tampa in the Bristol Channel, killing all 131 people aboard – the largest loss of life America was to suffer at sea during the entire war.
Unusually, very little was washed ashore from the wreck, with the exception of the remains of two sailors. One of these could be identified, and was later repatriated. The other was a headless torso, whose identity remains a mystery . The torso was buried in Lamphey Churchyard, and it was to this tranquil spot that John Griffith's grief-stricken mother would make a pilgrimage every year on 26th September to lay flowers on his grave.
John recalls that for at least a decade after Jack Healey's death his mother wore black bands around her forehead as a sign of mourning. And although she later married, and gave birth to John, she never forgot her first love, the American sailor who was drowned aboard the Tampa.
She would often sit on a five-bar gate near Giltar Point, gazing out to sea at the spot where she believed Jack Healey had drowned. And as to the anonymous grave, rationally, she knew it probably wasn't the grave of Jack Healey, and yet the nagging thought persisted that it might be. And even if it wasn't, surely it would have pleased Jack, to have known that somebody still cared for one of his fellow crew-members.
Location: Lamphey Churchyard, Pembrokeshire, SA71 5NR
Images courtesy of Navel Historical Center and John Griffiths
Featured in...
War at Sea

—

World War One At Home

How the war played out in British waters

Places in Wales that tell a story of World War One