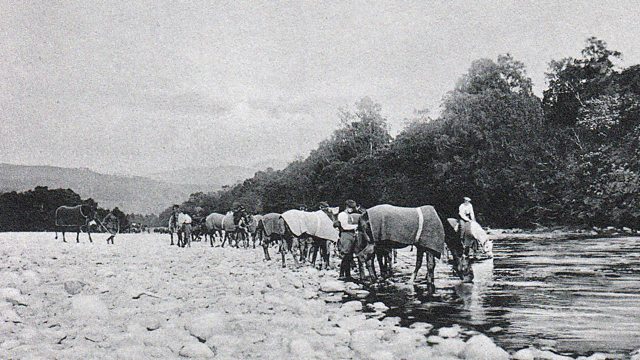 Blair Atholl, Scotland: The Scottish Horse
PH18 5TL - Blair Atholl
Blair Castle in Perthshire played an important role during World war One and the 7th Duke's three sons were all involved in military operations during the conflict. Lord Tullibardine, later the 8th Duke of Atholl, commanded the Scottish Horse Regiment. Known as "Bardie", he raised the Scottish Horse in South Africa during the Boer War. In 1902, two divisions were raised - this time in Scotland as part of the Territorial Army with their headquarters at Dunkeld.
Jane Anderson, the archivist at Blair Castle explains how the local people were used to the sight of the hundreds of men on horses who arrived for training each year before World War One. They would arrive on a special platform at Blair Atholl, designed to lower the horses and the regiment would train around the area known as the Black Isle.
The Scottish Horse regimental records are kept in the refurbished Community Archive in Dunkeld where David Arbuthnott is a volunteer. The enlistment books for World War One show the names of the hundreds of men who poured into Dunkeld to join the Scottish Horse and all the horses in the area were commandeered by the Army.
Writing to a cousin, the old Duke described what mobilisation meant to him personally at Blair Castle. "Seaton my valet, Robert Irvine my butler, Scott my second chauffeur, stable helper are gone. I have two unsound horses left in the stables. Peter Stewart head stalker, five keepers and the five hill ponies are gone. Not a man fit to stalk is left."
Image courtesy of Atholl Estates
Featured in...
Places in Scotland that tell a story of World War One

Animals

—

World War One At Home

Animals' contribution to the war effort